Sophia and David Hanson
Sophia and David Hanson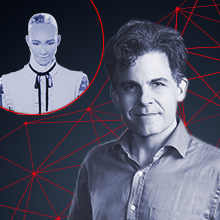 Sofia and David Hanson have in recent years toured worldwide media events with one mission: to show people that anthropomorphic robots can look and sound reassuringly familiar, and that AI is not a threat.
David Hanson has built a worldwide reputation for creating the world's most human-like, empathetic robots, endowed with remarkable expressiveness, and interactivity. Starting as a Walt Disney Imagineer and throughout his career, he has produced many renowned, one-of-a-kind robot characters that have received massive media attention and public acclaim. Hanson received his BFA in Film, Animation and Video from the Rhode Island School of Design and his Ph.D. in Interactive Arts and Engineering from the University of Texas at Dallas. Today, as CEO and Founder of Hanson Robotics, he publishes regularly in materials science, artificial intelligence, cognitive science, and robotics journals.
Sophia is Hanson Robotics' most advanced human-like robot, created by combining breakthrough innovations in robotics, AI, and artistry. She is endowed with remarkable expressiveness, aesthetics and interactivity, and can simulate a full range of facial expressions, track and recognize faces, and hold natural conversations with people. Sophia is a vessel for AI research and development. She has also received the title of Innovation Champion for the United Nations Development Programme (UNDP) to promote sustainable development with the use of technology and innovation in developing countries.