CENC
CENC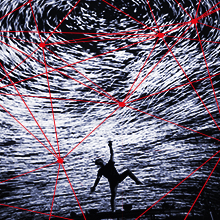 When you mix performance art with digital effects, the result might be more than an immersive experience.
Kevin Ramseier, Thomas Köppel and François Moncarey of CENC (Centre for numeric and corporal expression) engage in serious play with digital tools and the laws of physics. With DISORDER, they have created a video dance performance where the dancer controls the video and sound matter. The team of designers combine sound, movement and light into a single medium, which they then shape into frequencies, oscillations and vibrations.
François Moncarey is a visual artist who makes the intersection between science and arts tangible by putting the audience at the centre of his work. Thomas Köppel is an artist trained at HEAD in Geneva who then went on to study physics in parallel with his artistic activities in music and performance projects. Kevin Ramseier works with dance and video performances as well as musical creations. Together, they are members of CENC, a platform dedicated to artistic research and creation and a strong base for the sharing of knowledge and experience in different fields. DISORDER has recently been performed in Montréal and Boston amongst others, to critical acclaim.