Hans Block and Moritz Riesewieck
Hans Block and Moritz Riesewieck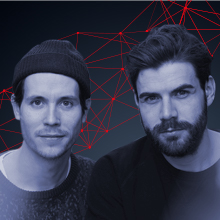 The use of social media has changed the way societies communicate, connect and work. But who has control over the information we receive and exchange? Hans Block and Moritz Riesewieck are young documentary makers whose first film, The Cleaners, explores the hidden world of content moderation on social media platforms.
Hans Block and Moritz Riesewieck met at theatre school in Berlin and bonded over a desire to work on research rather than the directing of more traditional plays. They work collaboratively under the label "Laokoon," using different media of expression, like theater plays, books and film. Laokoon, the seer, was the only person who unmasked the Trojan Horse's true nature: A dangerous fraud. They want to follow in his footsteps by revealing the Trojan Horses of our time. In their debut film, THE CLEANERS, it's the double bottom of the safe Internet, which billions of users experience every day.
Block and Riesewieck wondered who actually takes care of what becomes visible on social media. In Manila they encountered a hidden workforce who decides what to delete and what to keep up. By reviewing thousands of photos, videos and posts every day young workers in the Philippines are facing extremely disturbing content. But their decisions can also shape the public discourse and influence political conflicts worldwide. Alongside the ideological, political, cultural and religious implications of their work, the film reveals the psychological effects on the people who "clean up" the digital sphere. The "safe" Internet comes at a high price: The hidden exploitation of thousands of young workers in the developing world and the silencing of critical thinking in the digital space.
Instead of treating new social media like older, more established forms of communication, Block and Riesewieck argue for new frameworks and new institutions for the understanding and moderation of these media. The outsourcing of responsibility is a problem Block and Riesewieck want to highlight, with the hope that civil societies, governments and state authorities might react. Instead of users contenting themselves to be passive bystanders, digital citizens should reclaim agency over the digital public sphere.