Joanna J Bryson
Joanna J Bryson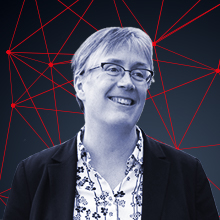 AI is built using the methods of Computer Science, but by ordinary programmers. When it is programmed through machine learning it can also be trained by the examples set by everyone, whether through intentional teaching or by data gathered unwittingly from our interactions with the Internet and other devices.   The result is algorithms which must to some extent represent and reproduce a human perspective of the world. So how do we build machines to be better than us? Can we remove bias and prejudice? Bryson's research addresses subjects that are on everyone's mind but that remain difficult to address.
Far from being an abstract or humanlike entity, artificial intelligence is a process. AI is not magic, it takes time, space and energy like all intelligence, and like all human intelligence it builds upon our history and culture. The intersection of ethics and AI covers both the questions of machine prejudice and the issues of robot rights. Joanna Bryson is a specialist of both natural and artificial intelligences. With a first degree in behavioural science (non-clinical psychology) and postgraduate degrees in both artificial intelligence and psychology, her work now revolves around AI policy and AI ethics. This has lead her into the appropriate use of machine learning, the nature of bias,  and social aspects of psychology and knowledge.
Joanna Bryson holds degrees in Psychology from Chicago and Edinburgh, and Artificial Intelligence from Edinburgh and MIT. She has additional professional research experience from Princeton, Oxford, Harvard, and LEGO, and technical experience in Chicago's financial industry, and in international management consultancy. She is currently a Reader (tenured Associate Professor) at the University of Bath where she  founded the Bath Intelligent Systems research group. She is also doing research with the Princeton Departments of Politics and Psychology.