Sanushka Naidoo
Sanushka Naidoo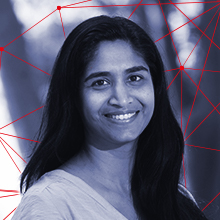 Scientist Sanushka Naidoo discusses the power of new biotechnology tools to address plants responses to pests and pathogens and potential solutions for the future of world food production and sustainability.
Climate change and increases in pest populations mean diversifying crops is vital to increasing sustainability. Naidoo's current research focuses on pest- and pathogen- control of trees, especially Eucalyptus. As trees are bigger and longer-lasting organisms, the process of ensuring their health requires in-depth and durable solutions.
Sanushka is currently Associate Professor in the Department of Biochemistry, Genetics and Microbiology at the University of Pretoria and the President of the South African Genetics Society. Naidoo's bioengineering work gives her insight into genetic modification of crops using CRISPR technology. She believes that biotechnology will allow for positive change in the world of agriculture, increasing food security, yield enhancement and nutrient availability. Genetic improvement of plants and crops, carried out by appropriately trained scientists and accompanied by corresponding policies, should be considered as part of the solution for feeding the world.