Maja Pantic
Maja Pantic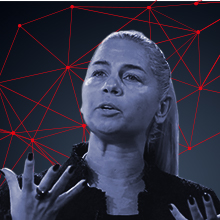 Will AI change the world as we know it? Professor Maja Pantic believes that artificial intelligence will increasingly be used to enhance human abilities. With this aim, she is developing systems to teach machines to recognise facial expressions that humans perceive intuitively.  
Maja Pantic went from studying mathematics in her native Belgrade, Serbia, to specialising in computer sciences in Delft, the Netherlands. The arrival of the internet in 1993 made her realise the potential for global change in the form of growing connection and communication. Through her MA and PhD, Pantic continued to explore the world of computing before settling on artificial intelligence and more specifically machine learning. Since then, Pantic has developed systems which are on their way to understanding human behaviours through visual recognition.
From Delft, Pantic moved to London where she is now Professor of Affective and Behavioural Computing and the Head of the iBUG group, working on machine analysis of human non-verbal behaviour. In May 2018, she became the Research Director of Samsung AI Research Centre in Cambridge. As such, she is confirmed as one of the world's leading experts in the research on machine understanding of human behavior including vision-based detection, tracking, and analysis of human behavioral cues like facial expressions and body gestures, and multimodal analysis of human behaviors like laughter, social signals, and affective states. For the future, she imagines AI enhancing human abilities further- allowing for sight, hearing and even communicating to be aided by computers. Eventually, she says, we can imagine that speech itself might be rendered unnecessary if brainwave-to-brainwave transmission, aided by AI, becomes reality.