CANCELLED : Rafael Lozano-Hemmer
CANCELLED : Rafael Lozano-Hemmer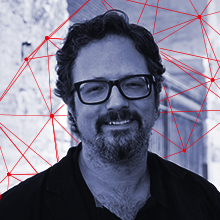 Rafael Lozano-Hemmer's famous large-scale interactive art installations have received global acclaim after being commissioned for public spaces and international events everywhere between Mexico and Japan.
Blending architecture and performance arts, he adopts technology like robotics, networks, ultrasonic sensors and mobile interfaces to create public participation platforms. His installations take the shape of a technological theatre stages inspired by phantasmagoria, carnival and animatronics.
With a B.Sc. in Physical Chemistry from Concordia University in Montréal, Canada, Rafael transposed to electronic arts in the 90s. Until today, he has received important awards, like two BAFTA British Academy Awards for Interactive Art in London, a Golden Nica at the Prix Ars Electronica in Austria, "Artist of the year" Rave Award from Wired Magazine, Governor General's Award in Canada, and the Trophée des Lumières in Lyon, to mention only a few.