Shermin Voshmgir
Shermin Voshmgir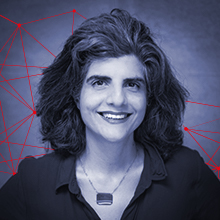 Blockchain has fast become a key word in new digital technologies. From cryptocurrencies such as Bitcoin to smart contracts, the digital world is being revolutionised. Shermin Voshmgir has worked and researched all these topics, including the social and human implications of such decentralised networks.
Shermin Voshgmir's CV is extensive and challenging to summarise. From the world of arts and film to economics, IT and social rights, she has done it all. After finishing her PhD in IT-Management at the Vienna University of Economics, Voshmgir went on to study filmmaking and stage production in Madrid. Her main focus in all these areas is blockchain technology. As the founder of Blockchain Hub, her work involves advocating for blockchain, smart contracts and the decentralized web to all stakeholders in society. Although part of her work involves explaining the technology to newcomers, she also focuses on human rights in a data driven world and the impact of the radical changes in the internet as we know it.
Voshmgir is the director of the Research Institute for Crypto Economics at the Vienna University of Economics, and the founder of BlockchainHub. She is also advisor of Jolocom, a blockchain based identity protocol and Wunder, a decentralized Art Museum. In the past, she was a curator of TheDAO and on the advisory board of the Estonian E-residency. She regularly speaks at conferences and consults on Blockchains especially in the context of sustainability and social impact of future technologies. Her past work experience ranges from internet start-ups, IT consulting & filmmaking. She is Austrian, with Iranian roots, and lives between Vienna and Berlin.